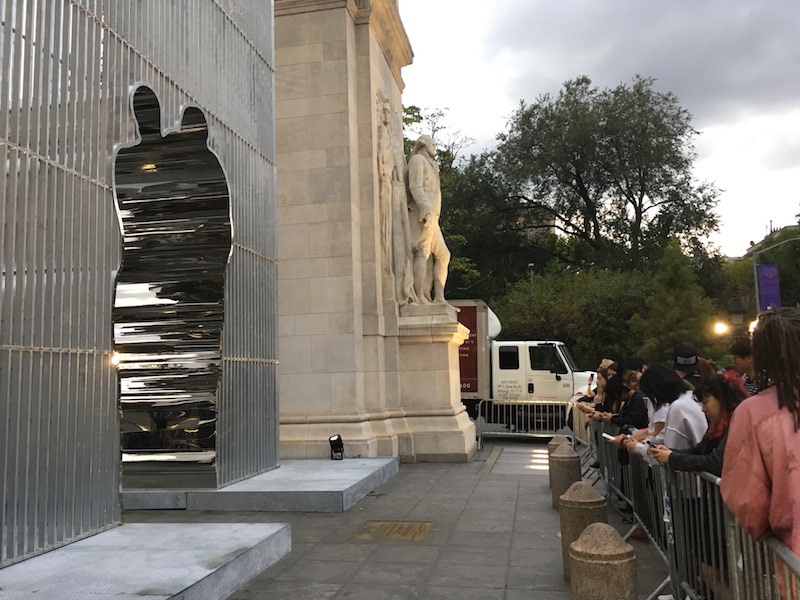 Chinese artist and activist Ai Weiwei brings art into the public realm with Good Fences Make Good Neighbors, an exhibition that includes more than 300 pieces of art spread across the five boroughs of New York produced in collaboration with the Public Art Fund. Weiwei's purpose for creating such a large piece was inspired by a need to start conversation about the global refugee crisis affecting millions of people.
In his introduction, director and Chief Curator for the Public Art Fund Nicholas Baum lauded the artist saying, "Ai Weiwei is truly a unique figure, his work reaches across all of these fields and brings us together around our shared human values."
It took only 18 months for the nonprofit organization to raise $96,853 to complete the massive project that includes 200 unique, two-dimensional banners, 98 documentary images, five site-specific installations and three sculptural installations displayed throughout New York City.
The opening took place in Washington Square Park where Weiwei built his own "Arch," a 37-foot-tall, cage-like structure with a mirrored passageway that resembles two untied human figures with their arms around each other's shoulders.
Actress Olivia Wilde spoke at the event and recounted a story of her time in the Zaatari refugee camp in Jordan where close to 80,000 refugees struggle to survive day to day. "Nowhere children," as she called them, are children who have no country to call their home. "I think of them and their mothers often and wish I could say I came from a country that was working hard to help them," Wilde said. "Our president fails to understand the refugee crisis is a human crisis, but his unjust, reckless response does not reflect how we choose to respond individually. As always, if we can't rely on our government to represent our values we turn to our artists and ask them, to contextualize our confusion and our rage as well as our love," she added.
The crowd of people held still and spoke in hushed tones despite the light rainfall, surrounded on all sides by fences, people and umbrellas.
"I think the real hope for me is not just to enjoy a very evocative art installation and exhibit, but to say we can all be a lifeline, we can be a friend of a refugee, we can tutor young refugee children, we can perhaps open our businesses to refugees to work. We can support humanitarian causes, and we can join in advocacy for humanitarian policies," said Jill Kraus, chairman of the Public Art Fund board of directors.
Since his release from detention by the Chinese Government in 2015, Ai Weiwei has been traveling the world to 23 countries and 40 refugee camps, capturing their plight as displaced people. "Good Fences Make Good Neighbors" is the largest project the artist has embarked on thus far and is accompanied by Weiwei's new documentary film Human Flow.
The artist refused to use an umbrella when he went on stage, choosing instead to get wet as he said a few words to a cheering crowd. "When my son was ten years old, the first English sentence he is speaking is 'No more Ai Weiwei.'"
Weiwei left the stage right after his statement, but a woman from the crowd shouted in Mandarin "You're awesome!" to which he turned around and responded in Mandarin, "I'm ok."
Other large installations include "Circle Fence" in Flushing Meadows Corona Park, Queens, and "Gilded Cage" in Doris C. Freedman Plaza, Central Park — a few blocks away from Trump Tower.
"Good Fences" will be on display until Feb. 11, 2018.