New York State corrections facilities house the most expensive prisoners in the country. According to New York City Comptroller Scott M. Stringer, the city's corrections facilities paid $132,019 per inmate in 2016, almost three times as much as Los Angeles which has double the prison population.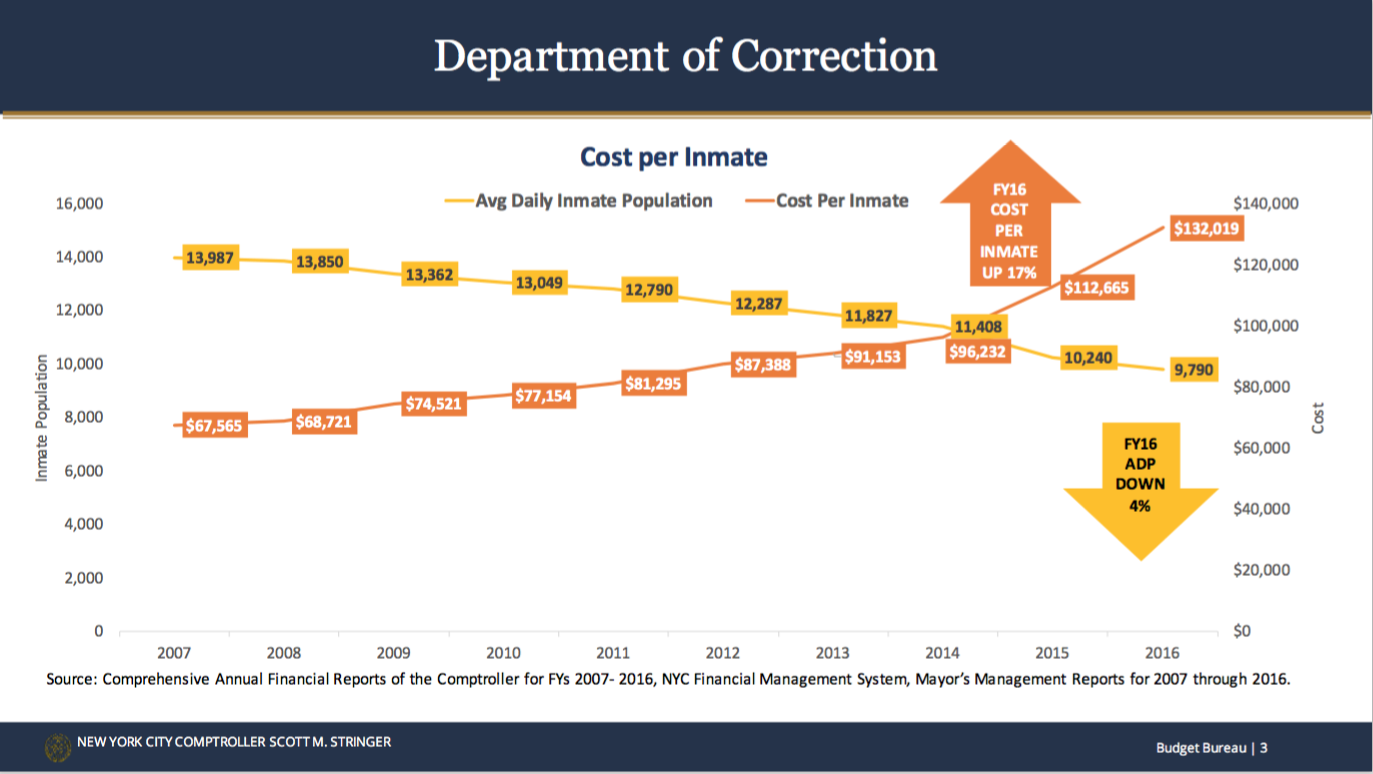 (Credit: NYC Department of Corrections)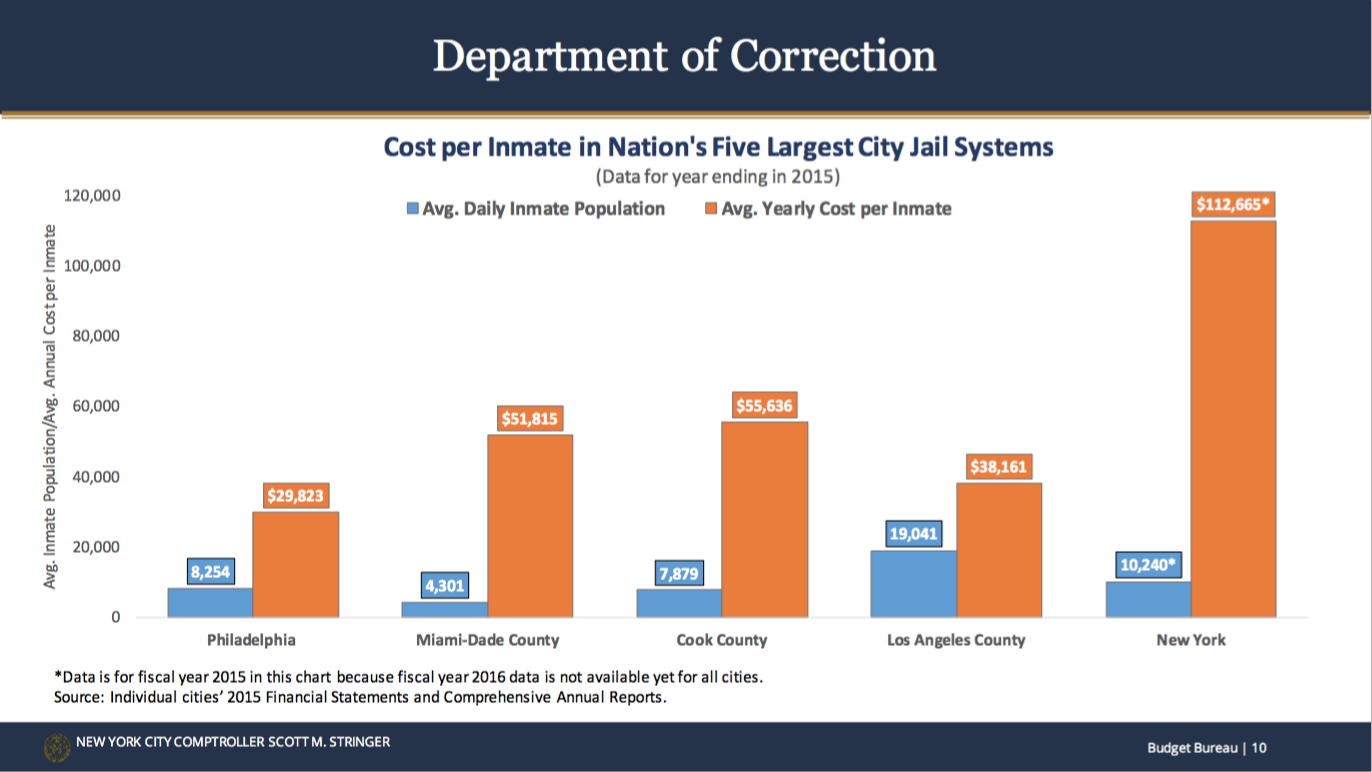 (Credit: NYC Department of Corrections)
Army veteran Takia 'Judah' Parham who became a victim of sexual assault, experienced the loss of her grandmother, an injury, foot surgery, and the stress of life in war, ended up in prison for a violent offense with a dim view on life. 
Upon her release in late 2016, this perspective was transformed however, into something that she calls a "miracle" and she credits Rehabilitation Through the Arts, the lead program of Prison Communities International, a non-profit organization. 
This program and others like it run by the Fortune Society and (RE) Emergent Theatre Co. help to lower recidivism rates for our returning citizens who often endure the stress of coming back home after extended periods behind bars. 
"You know, I'm up 24 hour shifts, 16 hour shifts, seven days a week in the middle of war and 123 degree weather. It came crashing down on me and when it did it came in the form of PTSD," says Judah regarding the damage stress impacted on her mental health.
               Over the course of her incarceration she filled 4 journals with 600 pages of poetry, her only outlet to express herself. After she received an invitation from one of her peers to watch a theatre performance facilitated by RTA, she decided to attend a movement theatre workshop. This soon became her mode for creative expression, a luxury in prison.  
"To go directly from war to prison is a very difficult, mentally draining thing, it's a horrendous situation that you willneed healing from. Most of my healing came from volunteering and RTA, that's all I needed," she says. 
"It became my therapy," adds Judah. 
               Although she was homeless for the first 5 months after her release, RTA nurtured a community for Judah and provided her with a network of individuals and skills that facilitate her return to civilian life. Today she has a part time job teaching physical theatre to children in Art 10566 and just secured her own living space as of the first week of May. 
               Rehabilitation Through the Arts is one of several art based programs that work with New York's incarcerated population as a method of rehabilitation and pipeline to success for the released. It was founded in 1996 by Katherine Vockins in Sing Sing Correctional Facility in Ossining, New York and now operates in five men's and women's maximum and medium security New York State prisons.  
               The organization coordinates volunteer facilitators to lead art based workshops in theatre, dance, writing, and more.
               After 21 years of service, the program now has 134 alumni of which Charles Moore, RTA's Program and Alumni coordinator, is one. 
               "I just came home in May myself, and I'm coming up on being a year home," says Moore. He was a part of RTA since 2004 and did production and stage management while in prison. According to him, Ms. Vockins saw his skills and offered him a job when he was released, keeping a promise she made back in 2009. 
               "To stick to your word seven years later is remarkable, because you could say we don't have the funding, something came up," etc. says Moore. 
               However RTA does have its own issues when it comes to budgeting. According to Charles, they run on an operating budget of about $300,000 a year, have 5 people on staff, and a volunteer roster of 60 people, of which 30 are active at any given time. 
​Two of RTA's own volunteers joined together with a group of returning citizens in 2016 to form a theatre company that focuses on building a community of artists in Harlem.
Getting Close
               In March, alumni and facilitators of RTA formed (RE) Emergent Theatre Co. and performed their debut production Getting Close, directed by Clare Hamoor and Ashley Hamilton. Set in El Barrio's Artspace at P.S. 109, it features four men retelling stories of experiences they had in prison. The ensemble features Juan Carlos "Johnny" Hincapie, Robert Pollock, Juan "Broadway" Rodriguez, Akeel Adil and Robert Lindsay.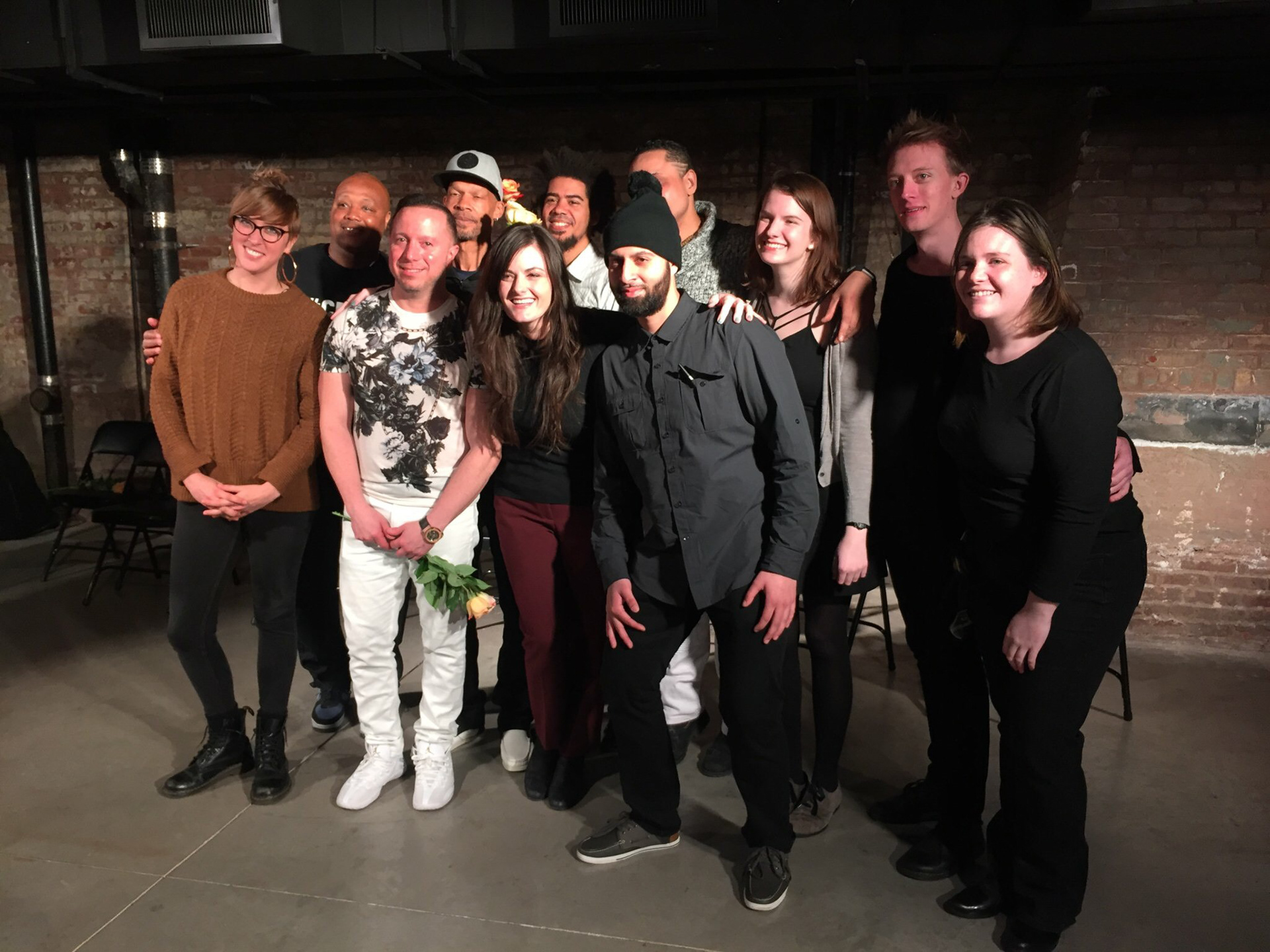 (PHOTO: Seth Cerrate) The cast and crew of (RE) Emergent Theatre Company at the opening performance of Getting Close.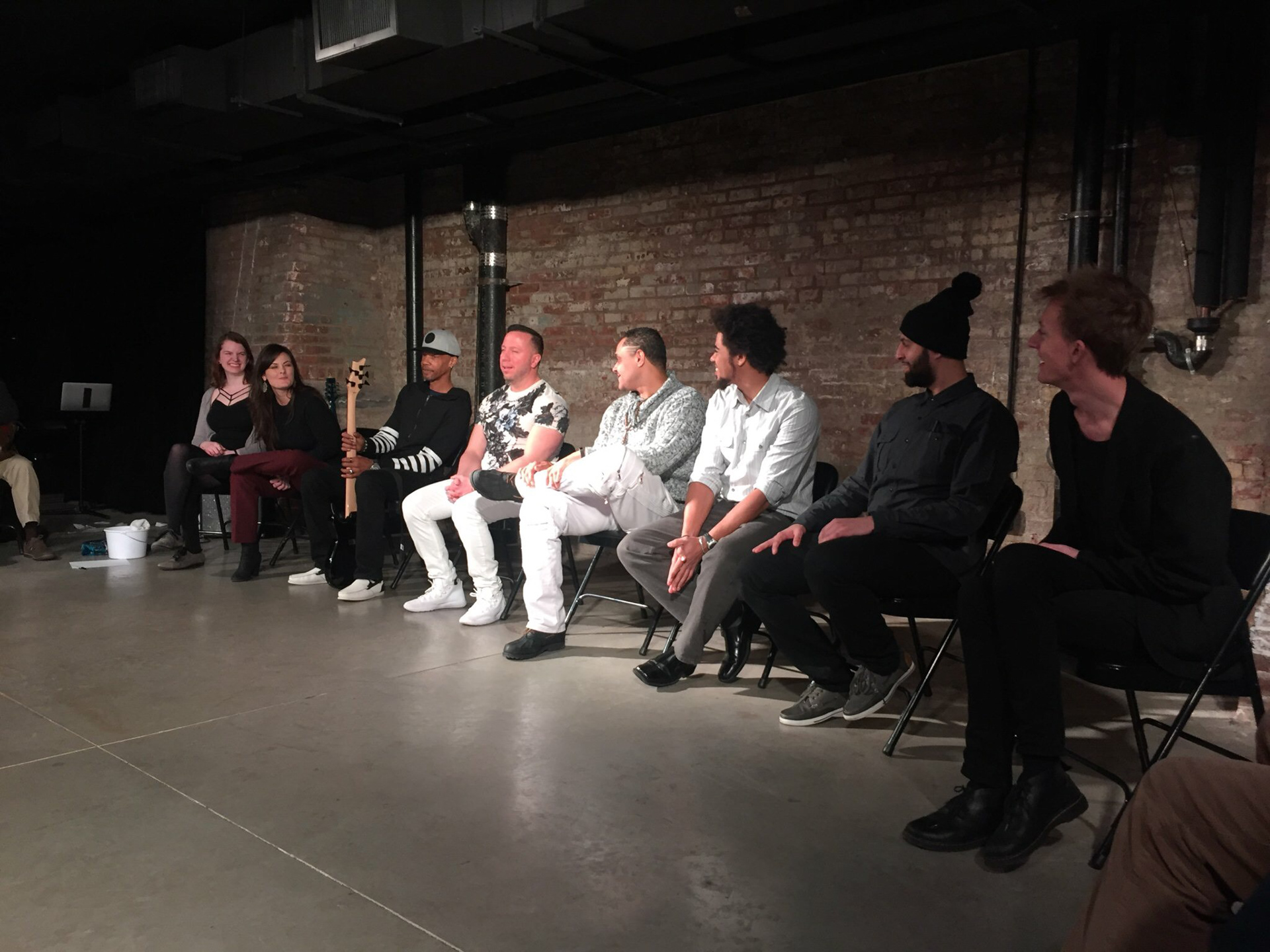 (PHOTO: Seth Cerrate) The actors and directors host an emotional talk-back with audience members.

               The play opens with Lindsay lulling his guitar in a corner, off stage while the rest of the cast forms a line and begins cleaning their cells. There are no walls or props other than four chairs, towels, a broom, and a bucket, so the cast makes due with what they have. The message is not lost. 
               The threat of rape, religious persecution, suicide, and a family members precarious choices piece together a small look at what life is like behind bars. 
               Getting this production off the ground took grassroots efforts relates Clare Hamoor, a PhD candidate in educational theatre. He and Hamilton reached out to friends and family for donations on a gofundme page created for the company and raised about $2,500 to cover dinner, transportation and production costs for the ensemble. 
               Besides the goal of producing a play, the focus of the company is to form a community on the ground for those recently released. 
               Moved by the performance, one audience member struggled to ask a question without crying in a talk back with the cast. 
               When asked what the audience should take away, Pollock answered "If humanity can be found in there, maybe we can find it here too." 
               "What do you see moving forward?," asked a man in his 40's. 
               Johnny answered "There are people who don't want to change and others that do everything in their power to rehabilitate."
Such is the case of these men and Guy Woodard, a teacher for a program that gives youth an alternative to jail time through schooling. He teaches his students, aged 18-30, how to draw using a method called stipple, or pointillism. It involves using dots to form a larger more complex image and Woodard's preferred subjects are women and children. He mastered the skill, which he calls maxi-minimalism, in a private studio he was given access to by his warden McAphee during his last sentence, which lasted five years.
"In every prison I was in they called me Picasso," says Woodard, with a slight grin and his gold necklace shining as he readjusted himself.
His own story starts in the 70's and follows a trail of fraud over decades, being in and out of prison four times before he finally got a life changing meeting with David Rothenburg, founder of the Fortune Society. 
               He credits his criminal behavior to his impoverished childhood in Harlem, where the only break he could get was selling drugs, but that wasn't his style. Instead he forged documents, ID's, and checks with a masters touch. 
               After his release, he sought out Rothenburg who saw his work displayed on a closed shop window to see if the man would take a chance on him. When asked where he was staying, Woodard said he was in a shelter. 
               The next week, he showed up to The Fortune Society's office looking for Rothenburg and after a brief meeting, secured a spot at the Castle, one of the organizations residential areas for the released. Eventually he got a job teaching art and selling prints. 
"I'm not a criminal for the first time in 40 years," says Woodard.
Most of his students are wary about art, and don't have the confidence to pick up the pen, so Woodard leads the class with one on one sessions and always relates the message "It's not magic, it's art". 
By the end of their time with him, Woodard sees a change in them. Many are proud of what they thought they couldn't accomplish and even use their self portraits as their Facebook profile photos.
The arts have a way of healing people without the intention of doing so.
(RE) Emergent Theatre Co. Podcast